I'm listing here the top Bloxburg House Ideas for you to explore in 2021. If you are planning to build a Bloxburg house soon, I hope this article will help you to find out about some of the best options you can choose from.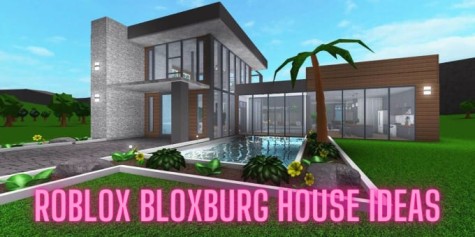 I have included YouTube videos of the Bloxburg Houses below to save you time.
Best ROBLOX Bloxburg House Ideas
1. Cheap Modern House
With the 10K Build no game pass Bloxburg House Idea, players can build something really cool at a great price. The video above depicts a single-story trendy house that you can construct without owning the Game Pass. All items belong to the story.
Here's an example of a modern house you'll love to build in Bloxbug. Here's a video and construction walkthrough to let you do it exactly as it is in the video.
It's a modern house with everything you could possibly imagine. Bedrooms, kitchen, big windows, living room, stylish bathroom, etc.
2. Luxurious Modern Mansion
Take a look at the Blush Modern Mansion by Franchises if you want to test your limits on what can be built in Bloxburg. With its rich and elegant touch, this mansion is something straight out of a dream. The house is shown below in a few screenshots. Building a massive two-story house is still possible. You can build a bedroom, a living room, a study table, a kitchen, etc.
Therefore, if you do not have a budget limit and have access to game pass items then is the best Bloxburg House Ideas for you to build a luxury mansion.
Also Read:
3. One-Story Family Mansion
Youtuber has left no stone unturned when it comes to designing this beautiful home. The house costs 230000 and features a front lawn pool, 2 garages, and a gardening area. Upon entering the house, you will see a huge dining room, a personal office, a kitchen with a small dining room, and a laundry room. Furthermore, there is a living room and two pianos, as well as two bedrooms attached by a bedroom.
For those who dream of living a lavish life and don't want to spend a fortune, this is the perfect house.
4. Studio Apartment/ Lofty Style House
There's nothing better than maximizing the use of a small space.
A Bloxburg house design like this is ideal for a single person living alone because it includes everything the individual will need to feel comfortable and happy.
There are different areas here where you can conduct daily activities while having a designated sleeping place.
5. House On Wheels
The idea sounds like it came from another universe. A natural look is provided by this mobile home, which is very spacious and has a nice porch. Greenery and minimal furniture make this portable house perfect for keeping the environment clean and fresh.