SPIDER-MAN: NO WAY HOME Green Goblin, Doctor Octopus & Every Character Explain in Detail 2021
In this article, we will tell you about Spider Man 3 Cast in 2021. Here we will expand every character in detail, which can be seen inside this spider man 3 movie. so let's get started.
In this article, we will tell you about SPIDER-MAN: NO WAY HOME Green Goblin, Doctor Octopus in 2021. Here we will expand every character in detail, which can be seen inside this spider man 3 movie. so let's get started.
SPIDER-MAN: NO WAY HOME Cast in Detail 2021.
In totally shocking news you've probably heard that Pun a lot, Jamie Foxx will most likely be reprising his electoral role in Tom Holland's third Spider-Man movie. Who saw that one coming to that big news and we still don't know for certain what role electro could play but he's not the only character returning for the third film today we are going to breaking down all the characters we know are going to be in Spiderman 3 So, let's get started.
Green Goblin in SPIDER-MAN: NO WAY HOME
So finally Spider-Man No Way Home Trailer has arrived and inside we have got to see the Green Goblin's grenade. We were very eagerly waiting for this opportunity to bring clothes and we will get to see all these characters. Finally, we got to see this thing inside the trailer.
The Green Goblin Is Confirmed Inside "spider-man no way home" And now we will be eagerly waiting for what we get to see in its next trailer because all the spider-man trailers come twice.
And inside the first trailer, it came to know that we will get to see the multiverse and inside the multiverse, we have got to see the villains and we will also discuss which villains we can get to see next.
Doctor Octopus in SPIDER-MAN: NO WAY HOME
Inside Spider-man no way home we will also get to see Doctor Octopus because you know that the multiverse is created then a lot of changes happen and a lot of devastation happens. We have been told directly inside this teller that Doctor Octopus will be seen returning to the movie.
And a very big multiverse is going to be created, inside which we can get to see more villains, but we do not know exactly how many villains can be seen at the time. So if any news related to it comes out to us, then we will definitely tell you, just tell us in the comment that you want to know about it.
Doctor Strange in SPIDER-MAN: NO WAY HOME
Yes, it has also been confirmed that we are going to see Doctor Strange inside Spider-Man No Well Home because the whole multiverse is going to be created by Doctor Strange. Doctor Strange is going to have a very big role in this spider-man movie, he has united a lot of multiverses, and going forward we are going to see which forms of Peter Parker, that is us in the movie You will know inside.
And you all know that whatever Wong doesn't do to Doctor Strange, Doctor Strange likes to do all those things and he doesn't listen to anyone. Going forward, Doctor Strange or Peter Parker's mistake that what result they are going to get, we will not know after watching the movie.
Electro in SPIDER-MAN: NO WAY HOME 2021
Since everyone is mainly interested in electro that's what the first point we will talk about when news broke recently that Jamie Foxx was in final talks To reprise his electoral role for Tom Holland's and Spider-Man. It certainly raised a few eyebrows because let's be honest the greatest thing about The Amazing Spider-Man 2 was that it was such a critical and commercial failure that it led Sony and marvel to work out a deal to bring Spider-man into the MCU.
Nobody was really missing anything about that movie. So, by bringing Jamie Foxx's character back and into the MCU that could be seen as either the smartest idea ever or the dumbest on the plus side marvel could not only be establishing the multiverse perfectly by having Fox Play a different version of the same character which could help people who struggled to grasp what the multiverse actually understand it a little better but also it would allow them to redo a past mistake by tweaking the max Dylan character
And making him an actually engaging villain rather than just a Batman forever riddler knockoff – Was that over the top I can never tell, Fox said In a now-deleted Instagram post that he wasn't going to be Blue this time so expect to see a complete this redesign of his character and this motivation see that sounds like a good idea. But on the more negative side by bringing back Jamie Foxx as electro you're basically forcing people to acknowledge the previous underwhelming Spider-Man Universe which could backfire so if fox's electro does reappear in SPIDER-MAN: NO WAY HOME cast. It will certainly say a lot about the MCU's future.
Also Read:
Doctor Strange & Venom in SPIDER-MAN: NO WAY HOME 2021
Thor Love and Thunder Production in January Rumors & Updates 2021
SPIDER-MAN: NO WAY HOME MJ and Peter Relationship
The electro is not the only character returning in SPIDER-MAN: NO WAY HOME cast. This new Spider-Man franchise has built up an excellent supporting cast in its last two movies and they're incredibly Vittal in providing Spidey with support and guidance of course we'll see MJ and ned again.
It wouldn't be a proper movie without them MJ and Peter relationship just finally got off the ground at the end of far from home but now everything will be tested is Rumors of Peter going on the run our true how will the two lovebirds handle a long-distance relationship on the other side of things if Peter stays in New York he probably would need to stay away from MJ now as he worries about her safety but on the Bright side MJ knows his secret identity and that allows her to have a more active role in the sequel. But how will the far from mid-credits bombshell affect their relationship. so MJ will appear in SPIDER-MAN: NO WAY HOME cast.
SPIDER-MAN: NO WAY HOME Aunt May
Another character definitely returning his aunt may and again this should not come as a surprise to anyone so maybe she will appears in SPIDER-MAN: NO WAY HOME cast. No one yet on If happy will be back to continue his courtship of May but honestly I think it would be better if he wasn't in it because far from home took place mostly Overseas that did not allow may and Peter's relationship to really be explored and
all of May's time was mainly with the happy subplot cutting happy out of it would help Peter and may spend more time together which I think the franchise needs and just because Peter didn't have enough problems flash Thompson will also be back in the third movie and we'll have to wait and see what happens with him.
Flash Thompson grew into an incredibly important character in the spider man comics but the movies have mostly just kept him as an annoying bully with a very sad backstory. so, maybe with his return he'll have more to do .
SPIDER-MAN: NO WAY HOME Jonah Jameson will appear in Movie?
So, if the flash wasn't enough to give Peter a headache he'll also have to contend with the returning j Jonah Jameson when jk Simmons popped up in the far home mid-credits scene fans lost their minds and thankfully this wasn't just a one-time thing Simmons is contracted for more spider man sequels I love this news just as much as Jameson loves pictures of spiderman. On top of all the confirmed characters returning for the sequel.
We can now speculate on other fan-favorite characters who might pop up in Spiderman 3 and this next chapter is a big one but be warned this is purely a rumor and should be taken with a huge grain of salt now months ago there was talk that Charlie cox's daredevil was in the talks to appear in the movie with some even suggesting that Matt Murdock was going to be Peter's lawyer in the upcoming trial now at first everyone waved this off because it sounded like a bit a stretch.
The MCU has had a complicated relationship with Netflix's defenders in the past with the larger movie franchise seemingly unwilling to have anything to do with the small screen gritty heroes but given the news that Jammie fox is coming back as electro may be there's workaround maybe there was truth to that initial rumour and Charlie cox will return as daredevil but just a different version of the character. It would be a great way to appease fans who think no one else should play daredevil besides Charlie Cox while still allowing the mcu to use the character in a way that fits with their more family friendly tone and finally just to mention it .
It should be noted that Jammie Fox posted another potentially spoiler- filled message that was eventually deleted . It was a fan made poster of Tobey Maguire Andrew Garfield and Tom Holland all standing together could those two formers Spiderman return to fight alongside tom Holland that sounds too good to be true but come on we all want that right who else do you want to see return for the third spider man and how is electro going to fit .
I hope you liked this SPIDER-MAN: NO WAY HOME Cast Every Character Explain in Detail 2021 article, you should be connected to us for similar new updates.
Spider-Man No Way Home Review (Spoiler Free)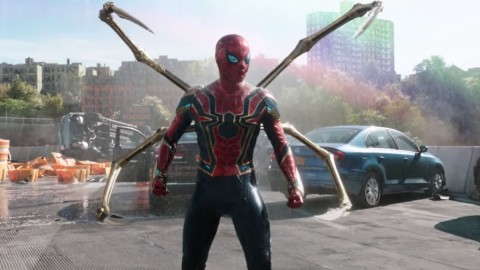 friends here we are going to share Spider-Man no way home spoiler-free review if you are really interested to know about Spider-Man no way home spoiler-free review then you can read this full article.
Guys, Spider-Man No Way Way Home is out now, I have watched Spiderman No Way Home that's why I am writing this article to Increase your Excitement if you haven't watched the movie. So one thing I want to tell that Please stop Spoiling No Way Home #Dontspoilnowayhome, and I want to tell you that Guys, It is Amazing Literally Amazing, Everyone is saying that it will Blow your minds, so it is a very true thing.
Once you have watched the movie then you will be Like Ohhh my Gosh…, What I have seen 😮 , you will be amazed, that's why don't Search for any reviews and Spoilers, Just Watch the movie and then you will know Everything, and Stay away from Spoilers, and after watching the movie don't spoil for Others who haven't watched yet, just tell them to watch.
So now I will tell about the story of Spider-Man No Way Home (Spoiler Free), So as mentioned in the Trailer and Tv spots of Spider-Man No Way Home, we are telling you the story, So Peter Parker (Tom-Holland) returns from London and sees that Everyone is Treating him as a Murderer because He Killed Mystererio, and His Identity is revealed that Peter Parker is Spider-Man.
So he asks help From Doctor Strange (Benedict Cumberbatch) to Erase his Identity that He Is Spider-Man, So Doctor Casts a Spell and then Everything that Happens Blows the Mind, You can Now See The movie for detailed Information Because we cannot give Spoilers Now, Go and Watch.
Spider-Man No Way Home Cast:
Tom-Holland as (Peter Parker) Main Cast
Zendaya as MJ
Jacob Batalon as Ned
Benedict Cumberbatch as Doctor Strange
Marisa Tomei as Aunt May
Jon Favreau as Happy Hogan
So I have given Some Information about Spider-Man No Way Home without decreasing your Excitement and by not giving any Spoiler, So now I don't know what to write now, So that's it for today, we will meet You Soon, Good Luck!
Captain America Comicbook Gamezonikk
So if you are also a big fan of Captain America and you also want his comic book, then you have come to the right place, here you will get a comic book for free.
Captain America Free Comic Book
If you want to download this comic book, then as soon as you reach the second page by clicking on the download button, after that you have to scroll down, then you will see a download button.
You can easily download this comic book by clicking on it.
Download Steps
Click On Download.
It will redirect you to second page.
Scroll down.
Then click on download again.
The Story of Thor in Thor Love and Thunder Leaks
An Amazing theory is Breaking the Internet, Answering Most Fans questions for the Story of Thor in Thor Love and Thunder.
After the event of Endgame, All of us was curious what would be Thor's next Destination, and which adventures are looking for Guardians and Thor in their ways. This amazing theory is answering most of our questions. So Here we Start,
The movie starts with the main Villian Gorr the God Butcher, killing a version of Thor in an Alternate Universe, and his left Mjolnir directly shoots off towards a Wormhole and Gorr Follows the Wormhole too. [Multiverse will play a big Factor in the Movie.]
Gorr is in the Main, Earth 616 Universe. Gorr attacks on the Olympian (Greek) Gods and kills Zeus and several other Gods, some remaining minor Gods escape from there for their Survival. Gorr Attacks on Asgard, Kills Korg and quite a few Asgardians, Valkyrie is Severely wounded. Gorr leaves the place in Search of a God.
The Surviving Minor Gods come to team up with Thor to fight Gorr who easily Defeats them all. Thor get rescued by the Guardians with followed by Jane Foster holding Mjolnir (of Alternative Universe dead Thor) in her hands having all the powers of Thor.
Lady Sif who was sent on an icy planet by Loki, when Loki sent Odin to Earth and lived as a king of Asgard, also joins the Battle, Sif Sacrifices herself to Save Jane Foster. Everyone Escape.
Hercules also joins the survived Gods team, and there, we also witness a Fight scene between Thor and Hercules, both becoming Childish about their opinions. Drax bets on Hercules and Rocket bets on his Friend Thor.
Thor, Might Thor, Hercules, and Valkyrie all fight the Final Battle against Gorr and Gorr Escapes after the Final Defeat.

Thor decides to Stay with his people on Earth and invite other Greek Gods, Valkyrie remains the Queen having a Love Interest in a Female Greek God. Thor Stays with the Jane who were fighting against Cancer and Lives with Her.