Ms. Marvel Episode 1 & 2 seem to be a record breaker in terms of the easter eggs. Marvel Studios bombarded both these episodes with ton of easter eggs and references to other Avengers.
It's important to note here that Ms. Marvel takes place 5 years after the events of Avengers: Endgame and just after the events of Spiderman: No Way Home. It's year 2025 in the MCU when Ms. Marvel takes place.
Ms. Marvel Episode 1 & 2: Review
The first episode starts with The Weekend's song which was there in the trailer as well. We soon get to know about Kamala's life and her love for Avengers. We also get a glimpse of how she wanders off into her own fantasy world.
The title of Ms. Marvel Episode 1 – Generation Why is a reference to her being different to Kamala Khan being different than all the other characters we have seen so far. She's young unlike the other Avengers.
Similarly, the title of Ms. Marvel Episode 2 – Crushed, is meant to depict Kamala having a crush on Kamraan and her emotions getting crushed at the end.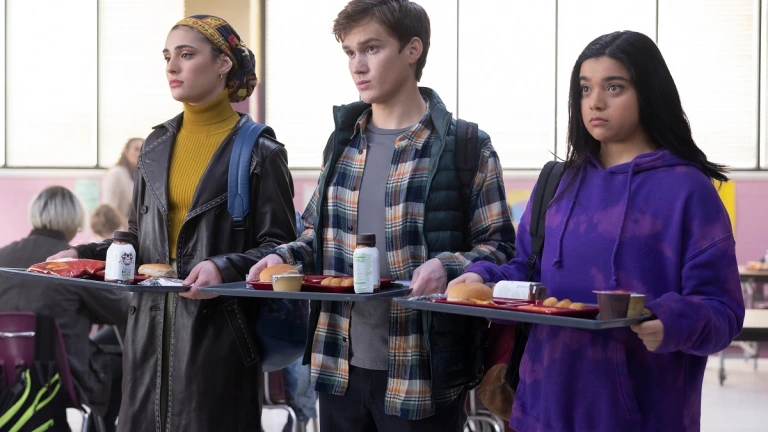 Ms. Marvel introduces the South-Asian world in Jersey City. There are several references to Bollywood, Shah Rukh Khan and Kingo Senior from Eternals. There are also references to real world facts such as the partition of India and Pakistan. Through this Marvel Studios wants to make you believe that the real world and MCU Earth – 616 are very much alike.
But despite introducing this, the plot gets on to the point of introducing her powers.
What's unique with this show is the cinematography which is totally unique and it's unlike anything we've ever seen in the MCU. The color filters used in the episodes are vibrant and have contrast on the lighter side which reflect the light tone of this show. So, full points to that.
So, overall, the first two episodes are highly focused on giving an introduction to Kamala Khan and the world around her. Although the plot of this show seems to move ahead very slowly, it doesn't seem bore to you at any moment and that's because the amount of Easter Eggs in this show.
Ms. Marvel Episode 1 & 2 – Top 10 Easter Eggs
Captain Marvel
It's obvious that this show will mention Captain Marvel a lot of times as she's Kamala's favorite Avenger.
But what's surprising is you see a note of Captain Marvel sightings after Avengers: Endgame. Tokyo, Sandy Beach, Dark Alley, etc. are the places where she was spotted.
We also the drawing of cat which is meant to reference Goose, the flirken from Captain Marvel.
Antman
The second most reference ever made to any other character is of course Ant-Man. Kamala Khan seems to love Scott Lang's personality. She even tested if she could shrink.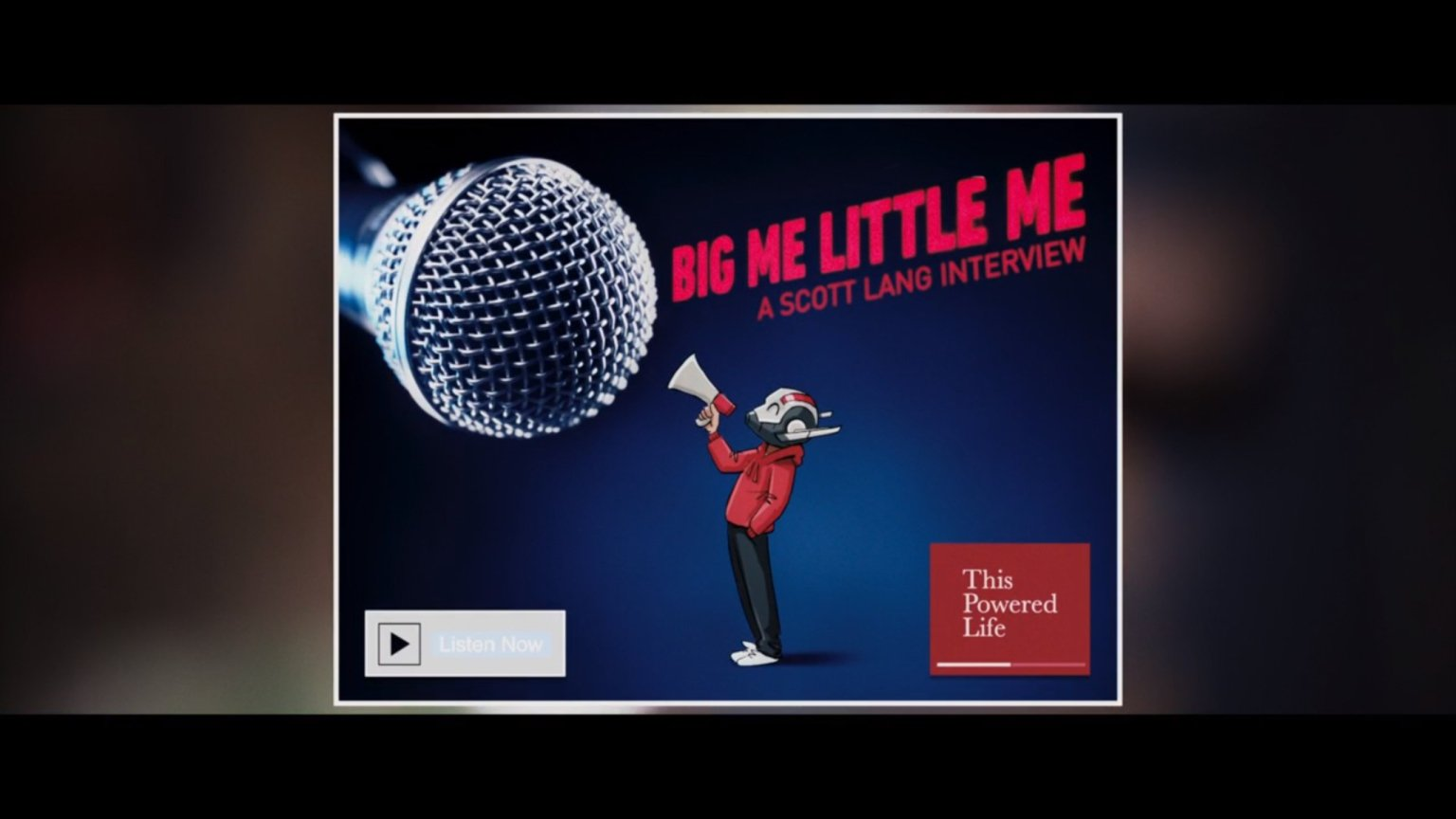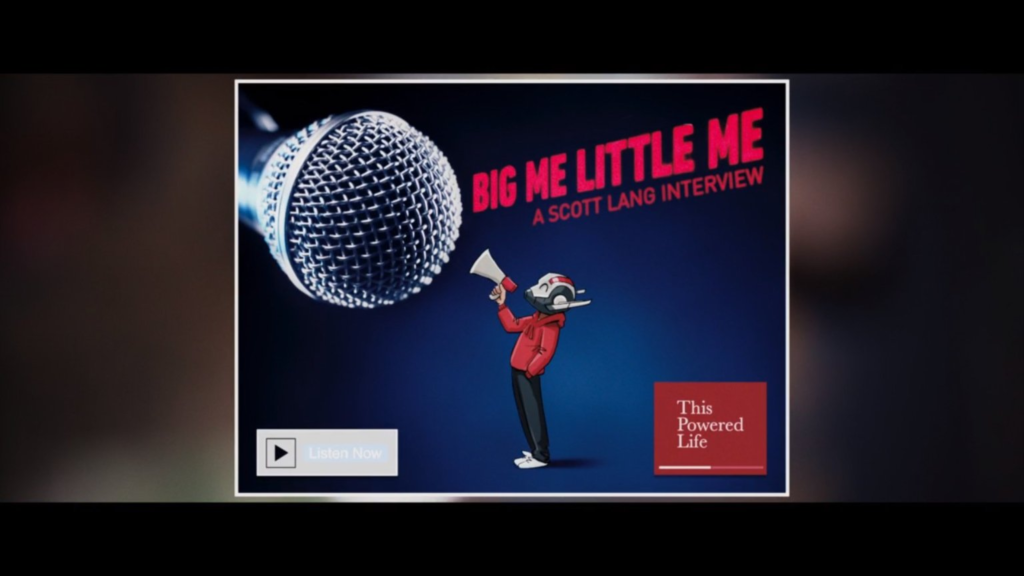 But what's the most obvious one is that Antman now has his own podcast after Avengers: Endgame. He tells the world about how he met the Avengers and shares insights about the last battle with Thanos.
The other subtle reference which Ms. Marvel makes about Antman is a small YouTube thumbnail which has a title of Antman and Wasp having their vacation in Paris.
Avengers Con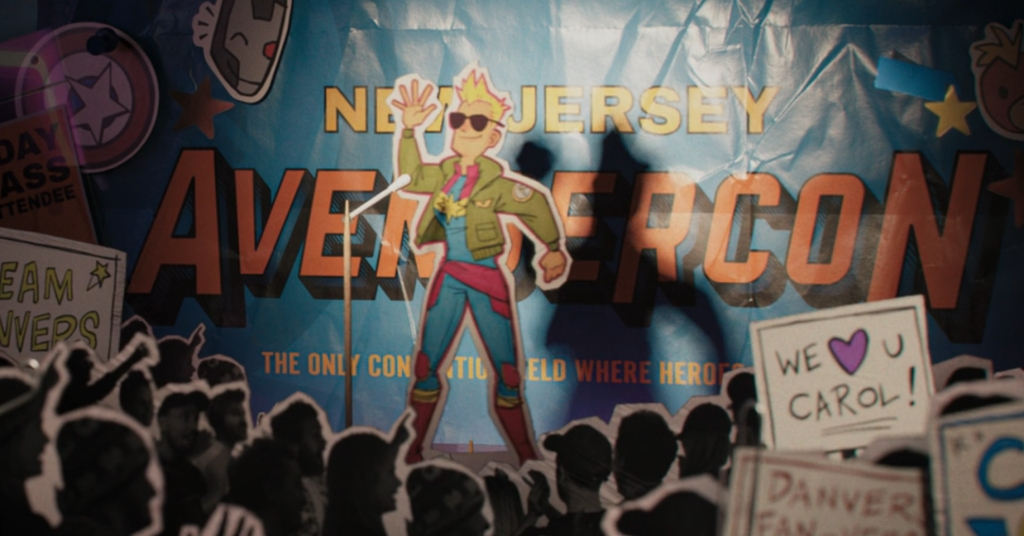 This is another clever yet subtle reference from Marvel Studios to make Earth-616 seem more real. It's meant to reference the Comic Con which we have in real life. But as its the MCU, only the Avengers exist and thus they have Avengers Con.
List of Creators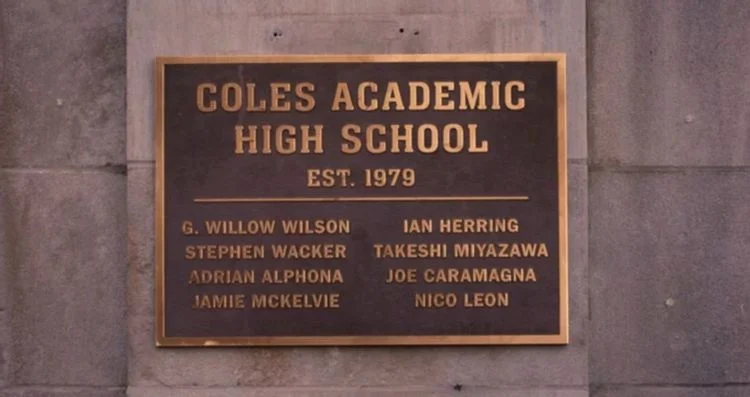 When we see Kamala enter her school for the first time you can see a sign with a list of names on it. This is actually a list of all the creators who have worked on Ms. Marvel. G Willow Wilson is the writer of this show.
Iron Man
Iman Vellani who plays Kamala Khan is a big fan of Iron Man. Initially, she wanted to do more references for Iron Man. But Kevin Feige talked her out of this saying that it will be too much. Also, this show is about Captain Marvel, so the creators took out many more references to Iron Man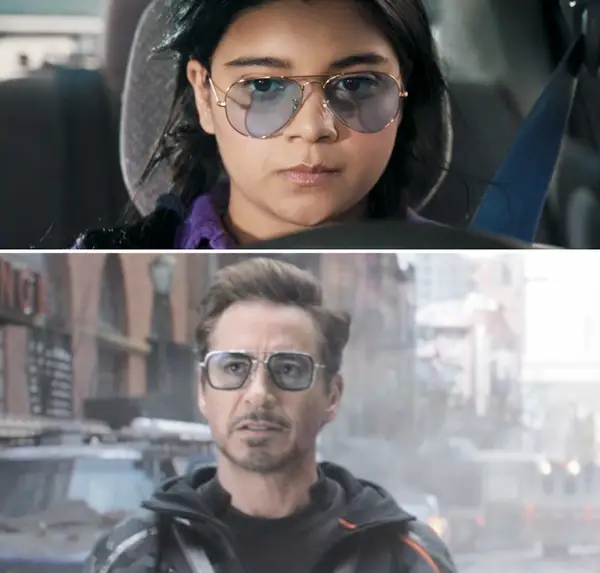 Well not this one. 'Thought we wouldn't notice, but we did…!"
Captain America
There's actually 2 more times when indirect references to Captain America are made but this one stands out for me.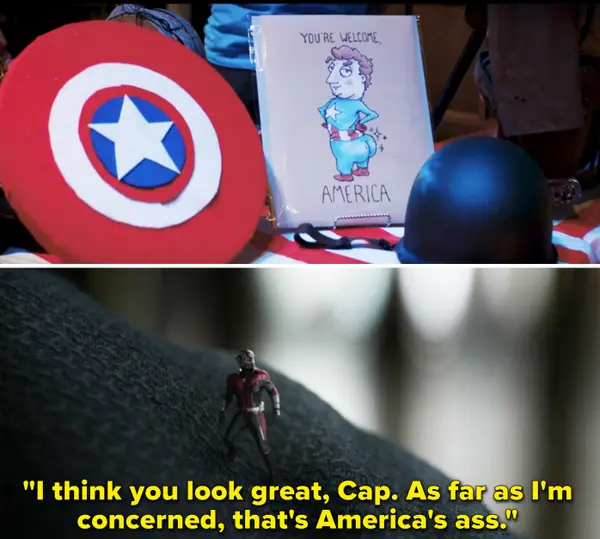 This cartoon is a reference to Scott Lang commenting on Cap's buttock.
Character Mashups
The scene where Kamala and Bruno talk about character mashups are direct references to the comic books.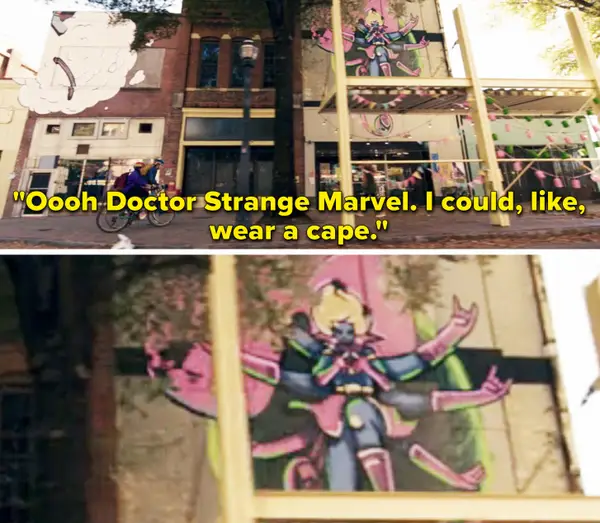 This reference to Captain Marvel learning magic from Doctor Strange is also from a comic.
Spiderman: No Way Home
Kamala Khan's life is similar to Peter Parker. Both of them are in high school, have a small group of friends and a crush. But the easter egg I'm talking about has a direct reference to the recent Spidey movie.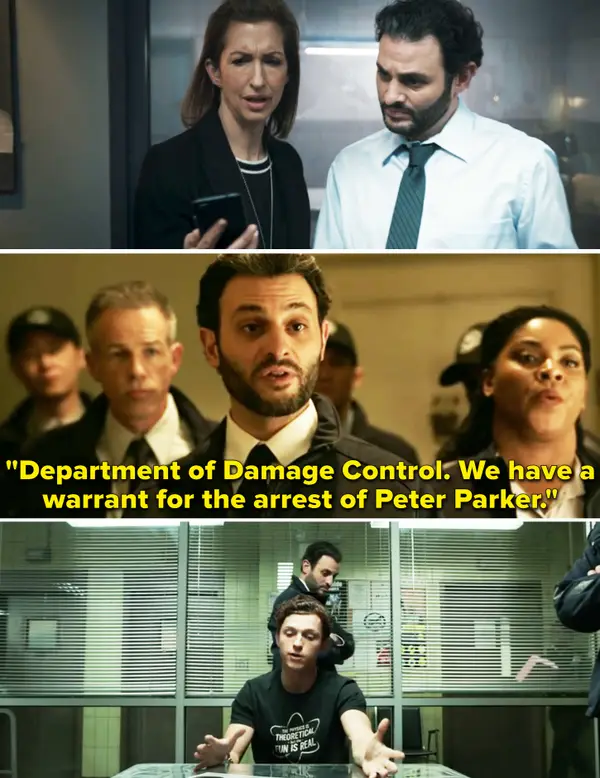 Agent P Cleary appears again now in Department of Damage Control. We saw him interrogating Peter Parker in Spiderman: No Way Home.
Black Widow
When Kamala lands on the roof after testing her powers her pose resembles Black Widow in Iron Man 2. Such a poser…!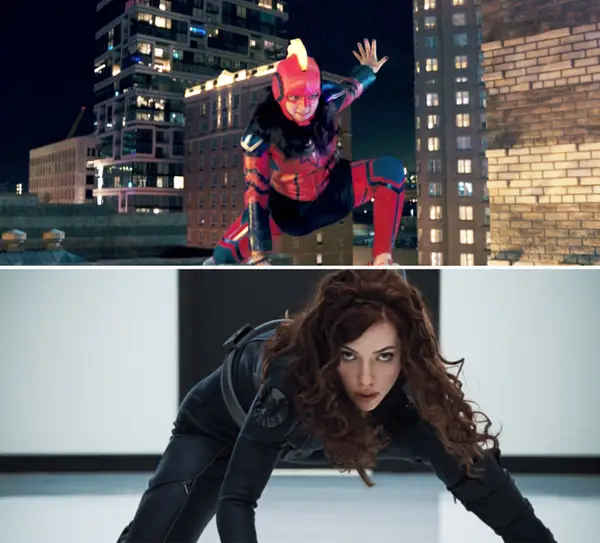 Hawkeye
In the closing credits scene of Episode 2, you can spot a truck used by Tracksuits in Hawkeye. It has the name 'Trust A Bro' written on it.
There are far too many easter eggs to include in just one post. Easter Eggs are meant to depict the creativity of the creators. But here's where Ms. Marvel stands out.
Whatever easter eggs we see for Captain Marvel and Antman is nod to what they did after the events of Avengers: Endgame.
The upcoming episodes of Ms. Marvel will provide a lot more explanation about her family history, Kree connection and her powers.