Hello friends, if you want to know all the GTA 6 map locations, then you can read this article completely, inside this article we have covered the entire link and we have mentioned all the information of 2023 inside this article.
An update came in September 2022 which was a massive update regarding the content of GTA 6. And if we talk about which provided the sneak peek to the highly anticipated game GTA 6. But whatever big leak came out, it was so extensive that it was a very challenging task to explain it.
Still, fans didn't give up and went through the leak, digging through every distribution to uncover possible information, and diligently analyzing that information. And all the locations that are going to be inside the GTA 6 game have been thoroughly researched.
As of now, which map will we get to see inside GTA 6, only time will tell. But Vice City is a map that can be seen inside GTA 6, according to Rumors.
If you do not know then let me tell you that Vice City is a map set in Miami Florida it is also said that we will get to see a lot of small locations around the boundaries of Vice City.
GTA 6 Map Size (Bigger Than GTA 5 Map)
A rumor that has been spreading surrounding GTA 6, The map of GTA 6 is going to be 2 times bigger than GTA 5. If we talk about if the map increases even by 50% then it can be a very realistic scenario.
But here many people say that if the map is big then here we get to see a lot of empty space, As we got to see inside GTA 5, there was no utilization of most of the space in GTA 5.
In GTA 5 we get to see very less activity in the northern countryside compared to the urban areas.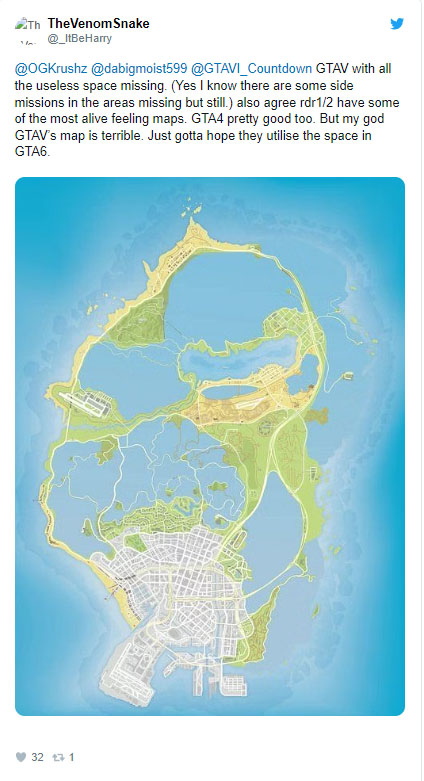 Here in the picture given above, you can see for yourself that here we are seeing very empty areas of the northern countryside, where we do not see much activity. And that's why people don't want a big map where we get to see a lot of blank areas.
But still, Rockstar Games is working on it and trying to make it as good as possible so that people can see more and more activities there.
The reason GTA 5 had a lot of blank areas was because the hardware limitations of the gaming consoles when GTA 5 came out were not that great, And this game was made keeping in mind a lot of gaming consoles. To make the game smooth, Rockstar Games had to compromise with the map.
If we are talking about 2015 a new update came keeping in mind the gaming console of 2015 where we got to see very good enhanced graphics in GTA 5 and many people liked this update as well.
The latest GTA 6 concept map is here in front of you, which is not very colorful but very impactful. GTA 6 map is shaped like Florida and its surrounding areas providing a massive and diverse world to explore let's take a closer look at some of the key locations on this detailed map.
The below Map Key Location will appear in GTA 6 Map:
Red Hill Forest
Ambrosia tarmac
Ambrosia farmlands
Copperhead
A parody of Disney World called Fairyland
Sundown Beaches
The airport
We've got really many interesting places to explore here including Sugarloaf Mountain in Port Gellhorn which has its unique race track there's also LO which has its race track too.
GTA 6 All The Leaked Locations You Need to Know
Vice City is a map that Rockstar Games has created a virtual world like Miami Florida, which has been liked by many people, we can get to see it inside GTA 6. Along with this, we can get to see many small locations around its boundary, which will make this game very interesting.
A Reddit post became very viral, inside which we got to see 11 leaked locations, and that post was taken down. In that post, we were getting to see all these locations Port Gellhorn, Ambrosia Redhill, LO, Sundown, Copperhead, Yorktown, Lake Leonida, Ekanfinika, Hamlet, and Domed Hills.
So you can imagine how interesting it is that we are going to see so many locations on one map. Along with that, we will also get to see different NPCs in each location, Which is a unique feature of Rockstar games.
What Kind of Thing We Will Get to See in These Locations?
If we talk, inside all these different locations, we will get to see the town resort and many such places which are situated outside vice city.
Additionally, the leaked information we found here includes specific locations such as strip malls, forests, Vice Beach (which is familiar to players of GTA: Vice City and Vice City Stories), and drag strips that would be making their debut appearances in the series.
At present, whatever rumor is coming related to GTA 6, it is being told whether the game is going to be launched soon in 2024 or within 2025. And if you like this article, then you share this article with your friend who is interested in GTA 6. And if you have any doubts regarding GTA 6, then you must tell us in the comment, and we will bring its solution soon.