hello guys, today I am going to tell you all GTA 5 Endings, We will tell you all the possibilities that are there, according to which you can decide which endings you have to choose. So all the possibilities of GTA 5 Last mission we have explained below, you can read it So without wasting time let's get started.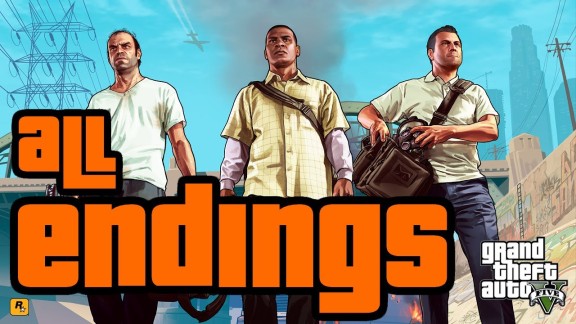 Three GTA 5 Endings
Here are 3 endings, which you have to choose within GTA 5 endings, you have expanded all these endings here, read that and then you can take the decision after that.
1) Kill Trevor:
what exactly happened in the game let us clear you, so franklin planned a meetup with Trevor. on reaching their meeting point they start a conversation.
they discuss our problems what they are facing, and during talks, Trevor thaught that is about Michael and Lamar, franklin show their gun and pull it on Trevor, and said that Trevor was the crazy one, not Michael, and Trevor sit on their truck and left from there, franklin also drive to catching Trevor.
Michael calls Franklin for help. and then Michael appears on their stollen car, and rams into the side of Trevor's truck, and caused the latter to crash into a gas tanker. waiting for ordering the shoot, franklin shoot the fuel tank. and fuel catches the franklin of fire and boom. it burning Trevor to death.
Also Read:
GTA 5 Online Rare Car Locations Map
Lamar GTA 5 | Who is Lamar in GTA 5
2) kill Michael:
franklin planned a meetup with Michael and called Trevor for assistance. now at the meeting place, they talking about what they are facing in their present life. and then Michael received a call from his wife, she told him that Tracey will be attending college.
franklin stand over there and listing all the conversation. franklin feels anguished and he figures out to Michael that franklin is sent to kill him. Michael starts driving with franklin said to arrive at palmer Taylor's power station.
At the top of the tower, Michael pulls the gun towards franklin. Start a conversation about I was with you every time. Franklin runs from there and hides somewhere while Michael had a shoot on him. From the backside, franklin came and pull down Michael and start beating him.
And a little time franklin pushed Michael from at the top, and Michael grabs franklin hand now he was hanging at the tower. And suddenly Michael pushed away franklin and he falls down. Due to this, he kills himself. Franklin go from there and called Lamar. And talk about all that happen.
3) Deathwish:
in this mission, franklin discussed with Lester. he and laster, at first they don't think about Trevor and Micheal to survive. After some time Lester came with a plan. They lead the FBI and Merryweather into a trap. After a meetup, they had with deathwish at cardash. They waiting for franklin. When franklin arrived at that place. Then push the car down into the deep river. due to this car blast in the water and deathwish gonna killed.
So Hopefully you will like this GTA 5 Endings Which Ending Is Perfect to Choose Article. And if you want more updates of GTA Five Series, you can visit our website again. If you have not yet subscribed to our website, you can also subscribe to it.