So today I am going to tell you about the New legend of Season 10 Apex Legends Pariah leak. And here we will talk about what leaks we have got to see. So all of you must know that many people are waiting for season ten, so I will share some season 10 news with you here.
Apex Legends Pariah Leak Explained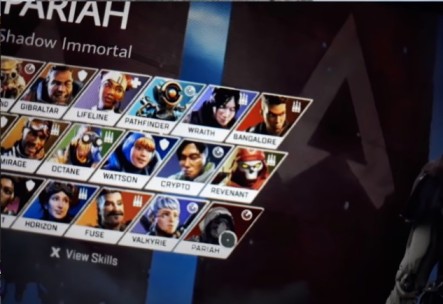 Inside this picture you will get to see Pariah and this picture itself says that she is a shadow immortal legend. Looking at this picture, it looks like the picture here has been taken from inside the Nintendo Switch because here you will get to see the X button.
Fact 1
As soon as you select Pariah inside the Nintendo Switch, a voice line plays here, which I am telling you below.
"Do you know what it feels like to have your soul be fragmented"
Fact 2
By listening to the voice line of this legend, you must have come to know which legend is connected, so yes let me tell you that it is connected to the Revenant.
Fact 3
This is the first time we've got an update on the voice line of the season 10 legend. And let me tell you that Pariah is a recon legend right now. And going forward, there may be some changes inside it.
Also Read:
Apex Legends Leak Revenant's Heirloom First Look
Apex Legends Mobile Best Guns | Ultimate Weapon Tier List
Apex Legends Pariah Leak Abilities
Aplomb Training
So with the help of this ability, Pariah can see the health bar of his enemy. and immune to stunning effects and SDM Steam
Sacrificial Romantic
Pariah activates a SOM device releasing a flurry of steam in all directions but becomes unable to move, Steam causes burn damage directly to health.
Sonar Grenade
Throw a sonar grenade revealing enemies in it's area of effect. Grenade lasts for 15 seconds.
So yes that's all for today, if we have any kind of information related to apex legends Pariah, then we will definitely tell you and you must tell us in the comment that how did you like knowing about the legend.