Here today we are going to talk about how you can make Anvil Minecraft inside this game. If you do not know how to make Anvil inside Minecraft game then you can use this tips and tricks.
What Is Anvil Minecraft?
Anvil is a thing inside a Minecraft game that uses a lot of iron to make it. It looks simple but making it is very difficult. Although not so much difficult, it takes some tips and tricks to make it, today we are going to tell you. I think no one has created a written article about Anvil Minecraft. So your friends are also looking for how to make anvil inside the Minecraft game so you can share them.
How To Make Anvil In Minecraft
So we keep talking about which recipe, with the help of which you can make anvil inside a Minecraft game.
Open your crafting table.
Put three iron blocks at the top. And then put four iron ingots in the bottom.
When you place it on the ground, you will get to see anvil.
Now when you open this Anvil, you will get to see something of this type.
You will get to see the UI of this type. So let me tell you what it is. This is what you are seeing in the first area, inside which you will place your targeted item. This item is the one with which you will change Anvil.
And which you see in the second area, inside which you will put your sacrifice item. So this item is the one you have to lose to get the targeted item.
When you add anything inside Anvil, then for automatic you will show a name in which you can rename whatever you want.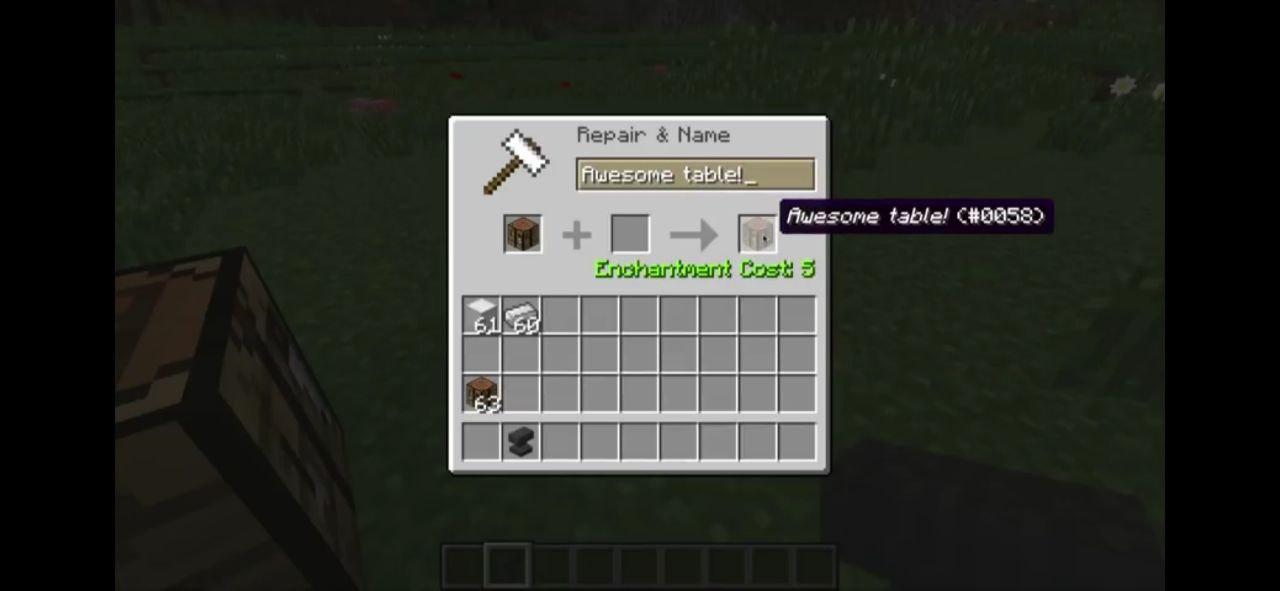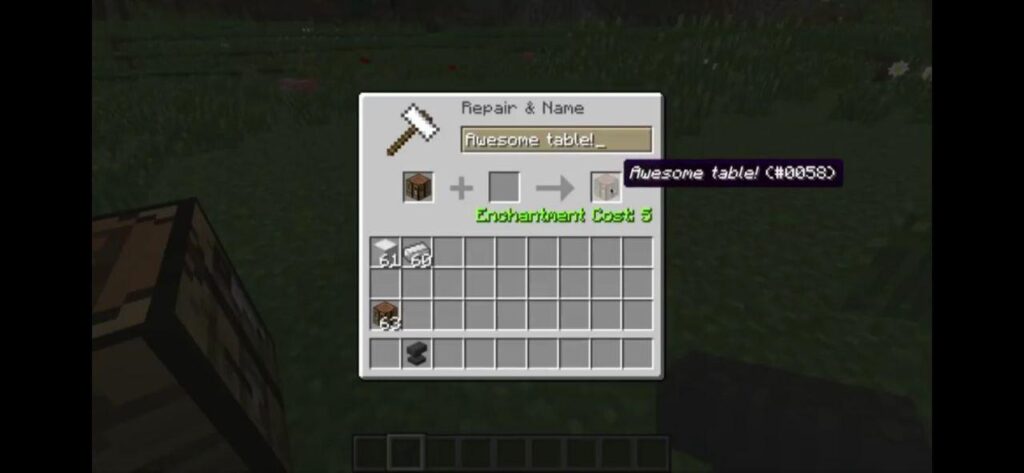 You can see here in the above picture that we have named this first item as an awesome table, you can also rename it according to your own.
If you do anything inside Anvil, then you will get to see the Enchantment Cost. Which you are seeing inside the green color. It will be shown to you according to your level, if your level is 30 then you will see this $ 5.
Also Read:
Will Apex Legends Launch Inside Nintendo Switch | Release date?
Borderlands 3 Bloody Harvest Halloween Event New Weapon Skins
Uses of Anvil
Anvil is also used to repair items. So let's see how you can repair any item using Anvil.
What you have to do first is that you have to pick a sword from your table.
After lifting it, you have to put it inside simple crafting. So here you are getting a damage of +7 because you are repairing one thing.
So all these things were meant to tell you the normal thing, how does all this happen inside Minecraft.
Items Repair Anvil Minecraft
So if you put both swords inside Anvil, then you will get 25 Enchantment Costs here. It has such a cost because it is a repair item. Here we have repaired the same item, so here you can also add another item.
First, we talk about what the base material is, then iron sword iron wood and iron stone, diamond and gold. So if you have to put a sword and diamond inside it then you will see that it is using and repairing 25% of damage on this sword. Its output is very good.
So you have come to know that you have to either use the same item or use the base item inside anvil minecraft to repair anything. Let us see what else we can do inside it.
So we first put the sword inside it and after that, we will add the book inside it, after that we get to see a sword knockback II in the output.
Similarly, if you combine an Axe with a book, you get to see the Fire aspect II.
I hope that you would have liked the Anvil Minecraft article here, if you want similar tips and tricks, then you can subscribe to our website, for this you have to press the Bell icon below and press the Allow. This will give you a new update related to all gaming.